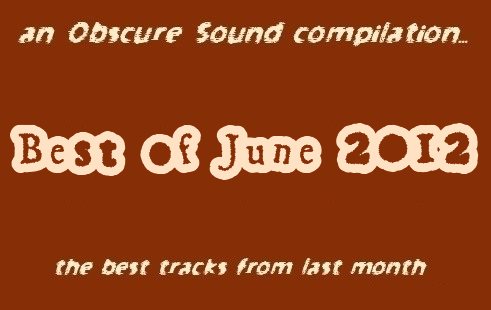 This compilation is about a week late, and I apologize for that. The first week of July always tends to move quickly. But as I mentioned last month, it's an exciting time for Obscure Sound… despite the lack of regularity in June. The expansion begins this month, as we'll steadily unveil some exciting new features. Apart from the basics (more content, more variety, more writers, etc.), we'll be rolling out features that provide more immersion for readers. For me, one of the most rewarding aspects of writing this site is gauging readers' reactions on new artists. Making user interaction more accessible will be one of the first changes you'll see. We'll also be seeking new writers soon, so keep an eye out for that if interested.
But for now we'll focus on this month's compilation. While it may not compare in quantity to last month's massive 20-track treat, you can expect the same emphasis on quality undiscovered artists. Well, Jens Lekman and Dent May are regular names by now, but the rest should be new to most ears. We have the excellent returns of Quichenight and King Devil (formerly Klum), as well as reminders that Warm Weather and Tigermilk are steadily rising in popularity for good reason. I found the energetic hip-hop of Doomtree exciting enough to include two tracks, with new artists Murphy N Weller and Kite Sun Kid showing impressive songwriting ability as well. That Wymond Miles album, Under the Pale Moon, is also a great release.
Enjoy the weekend. We'll be back with plenty of content on Monday.
01. Jens Lekman – Erica America (post)
02. Quichenight – Rock and Roll Thing (post)
03. Wymond Miles – Strange Desire (post)
04. Warm Weather – Stay (post)
05. King Devil – Pepper (post)
06. Eternal Summers – Wonder (post)
07. Kite Sun Kid – The Cage and the Animal (post)
08. Doomtree – Fresh New Trash (post)
09. Tigermilk – The Departure (post)
10. Zelienople – Island Machine (post)
11. Dent May – Home Groan (post)
12. Girls Names – Black Saturday (post)
13. Murphy N Weller – It's Alive (post)
14. Doomtree – Bangarang (post)
DOWNLOAD ENTIRE COMPILATION>>>
 (86.8 MB, .RAR)