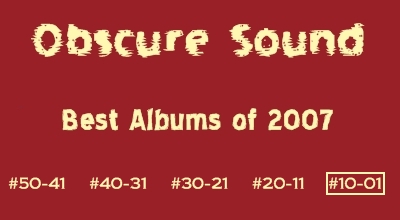 ———————————————————————————————–
10. B.C. Camplight – Blink of a Nihilist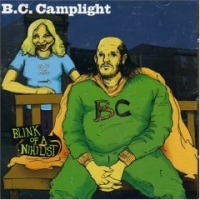 Musicians who have struggled with past mental illness are often tagged with a very undeserving label. Foolish critics shout names like Brian Wilson and Syd Barrett without even regarding the new artist's work or current state of mind. All I ask of new listeners to Brian Christinzio (alias: B.C. Camplight) is to pay attention to his musical output, not his past history. Though his conquering of a mental illness certainly makes for an interesting lyrical perspective, the only aspect that should be regarded is that his second album, Blink of a Nihilist, has emerged as a dark horse in being one of the catchiest albums of the year. By integrating synths and crisp vocal production with brass orchestral elements and piano-led melodies, Christinzio's knack for classic pop hooks beckons back to the days of the Beach Boys and Beatles, relying on simplistic but effective melodic additives in the crafting of a very accessible sound. In contrast, his variation of styles shifts from contemporary guitar-based indie-pop in the vein of The New Pornographers ("Officer Down") to suave brass-led chamber-pop like in the exceptional "Soy Tonto!". The choruses are often substantially invigorating, with the bridges being subtly interwoven in the result of a structurally sound composition. Blink of a Nihilist is a fresh mixture of classic influences like The Beach Boys and The Beatles that overlap with more conventionally modernistic nods to The High Llamas, The New Pornographers, and The Shins. Do not be surprised to see Christinzio lauded for eventually landing in the upper ranks with the latter group. With an album like Blink of a Nihilist, he now certainly has the credentials.
———————————————————————————————–
09. World's End Girlfriend – Hurtbreak Wonderland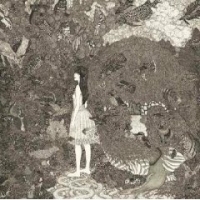 Katsuhiko Maeda is truly a master of capturing human emotion through the art of music. His incorporation of classical music, avant-garde production, and tumultuously layered samples has created cause for acclaim in his solo project, the oddly titled World's End Girlfriend. Still, "solo" does always seem quite a tiring word in appliance to Maeda; his usage of piano, strings, upright bass, and nearly every orchestral instrument imaginable creates an experience that is elaborately detailed, yet never overwhelming. One is usually shocked to find that the output of World's End Girlfriend is done in majority by one individual, and one very talented one at that. Like his past releases, Hurtbreak Wonderland is dark and often chaotic in tone. Always keeping the listener on edge, Maeda has proven that, at any moment, he can transform an instrumentally tranquil setting into a scene of abrupt chaos. His typically expansive instrumentation is often found laced with sound effects in the feverish vein of a door quickly closing shut, the scream of a child, or the laughter of a deranged madman. These all are expertly implemented, providing an atmosphere that is too eerie to find a home in even the most chilling of horror movies. Apart from the maniacal laughter and screams found within the brilliantly chilling "Dance for Borderline Miscanthus", Hurtbreak Wonderland is largely an instrumental record. Though Maeda still blends in the use of samples – like the creaking of a door in "Bless Yourself Bleed" or the sound of rainfall in "River Was Filled With Stories" – the use is much more subtle and less involved than in previous releases in the form of The Lie Lay Land. For a suitable example of Maeda's raw emotional power, try listening to "Dance for Borderline Miscanthus" in a room that is entirely dark for its entire duration without flinching. If you do, your nerves are certainly stronger than mine. Thanks to Maeda, few albums can accomplish as much emotional depth as Hurtbreak Wonderland.
World's End Girlfriend – 100 Years Of Choke
[audio:https://obscuresound.com/mp3/wegirl-100.mp3]
World's End Girlfriend – Dance For Borderline Miscanthus
[audio:https://obscuresound.com/mp3/wegirl-dan.mp3]
———————————————————————————————–
08. The Tough Alliance – A New Chance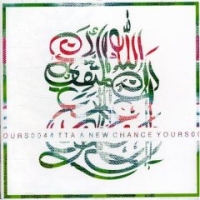 If one were to attempt to neatly fold the various styles within the bustling Swedish music scene into one package, the result would likely sound something like The Tough Alliance's A New Chance. Their quality is reflectively expected too; the Swedish duo weave elements of irresistible pop seamlessly with electronica that, while occasionally complex, offers more than a handful of melodic swoons capable of instant memorability. Though the duo's central focus remains within the somewhat conventional realm of electronic pop, the showmanship presented on their sophomore album, A New Chance, is stylistically remarkable. From the infectiously danceable leading synth line in the irresistible "First Class Riot" to the brilliant incorporation of reggae and electronica in "Looking for Gold", it is difficult to strictly classify The Tough Alliance as either an electronic, pop, or even reggae artist. It truly depends on which song on A New Chance you are exposed to, as the album is spread all over the place in an enjoyable form. Though the core of many songs on the album is driven by a synth-laden pulse largely reminiscent of popular electro-pop dance, the variation of styles both old and new establishes a fresh listen that keeps listeners coming back for more. What perplexes me is that if Justice can literally become the "next big thing" with "D.A.N.C.E.", why are The Tough Alliance not getting recognition for a stopper like "First Class Riot"? Regardless, though the import-only price is rather hefty, A New Chance is well worth the price of admission.
The Tough Alliance – First Class Riot
[audio:http://mineorecords.com/mp3/tougha-fir.mp3]
The Tough Alliance – Looking for Gold
[audio:http://mineorecords.com/mp3/tougha-loo.mp3]
———————————————————————————————–
07. David Vandervelde – The Moonstation House Band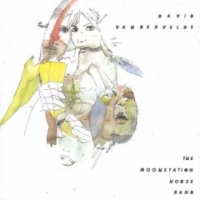 When I first heard David Vandervelde's debut, The Moonstation House Band, way back in January, I knew that it would take something special to overtake it as the debut album of the year. Though 2007 saw plenty of excellent debuts in the following months, I sit here at the end with the unwavering confidence to say that The Moonstation House Band remains my favorite in that regard. It would be easy to relate the Chicago-based songwriter to a songwriter like Marc Bolan, the talented frontman of T.Rex, a group that can be credited as one of the most influential glam acts of the '70s. In fact, "Feet of a Liar" sounds remarkably similar to Bolan's "Ballrooms of Mars", both haunting tracks that are aided by sparkling keys and heavy doses of reverb. Though glam-rock is one of Vandervelde's most blatant influences, a variety of different classic rock idiosyncrasies are utilized throughout the album, including string-led compositions that are driven by alluring hooks and sweeping instrumentation. Beautiful strings performed in such tracks as the stunning "Corduroy Blues" and "Wisdom From a Tree" were done by the legendary Canadian composer David Campbell (Beck's father). Much like Joanna Newsom and Van Dyke Parks, the duo of Vadervelde and Campbell work flawlessly together. "Corduroy Blues" serves as one of the year's most ravishing tracks and, even if "Nothin' No" and "Jacket" have enough initial charm to garner themselves as Vandervelde's most radio-friendly tracks, his true potential is exposed in the extravagant "Corduroy Blues". Thanks to the album's consistent output of quality (and short, half-hour duration time to boot), there is not a dull moment to be found on The Moonstation House Band.
David Vandervelde – Nothin' No
[audio:https://obscuresound.com/mp3/vand-not.mp3]
———————————————————————————————–
06. Sunset Rubdown – Random Spirit Lover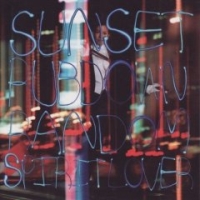 It takes quite a lot to finish in the "Top 10" two years in a row. But in appliance to Spencer Krug, I guess it is to be expected. After all, some consider calling him "the busiest man in indie-rock" to be an understatement. It is not the quantity of work he puts out (usually 2 or 3 albums per year under different bands), but the quality that each release conveys, always incorporating something fresh and exciting into a trademark style that fans have grown lovingly accustomed to. Wolf Parade and Swan Lake aside, I have found that Krug's strongest material is often present under a group alias where he seemingly has the most control, Sunset Rubdown. Last year's Shut Up I Am Dreaming scored high on my list at #4; this year's Random Spirit Lover sees much of the same success. For fans of the prolific "The Men Are Called Horseman There" on Shut Up I Am Dreaming, the majority of Random Spirit Lover will come off as immediately satisfying. Not only is Krug once again focused on treating instruments like building blocks, throwing various melodies on top of one another through various works of instrumentation, but numerous tracks on the album are representative of Krug's inherent ability to craft emotionally wounding build-ups. Like Krug also shows on "Winged/Wicked Things" with a slight strain of synth and "Stallion"with a trickle of keys, he works with an initial melody and then expands it into several modified arrangements until dozens of different layers are fluidly implemented into one. A similar approach is used in the awe-inspiring "The Taming of the Hands That Came Back to Life" as Krug utilizes guitars and synths as a compatible pair, resulting in arguably the most satisfying song on the album. His lyrical adeptness is also in full force, with the humorously titled "Magic Vs. Midas" being a contemporary societal comparison of sorts to Midas, a mythological Greek king who could turn anything he touched into gold. "Hey woman, with the gold that you keep or which keeps you in your place," Krug quivers over piercing keys before cleverly remarking, "Do you recall that it's just green and copper taste?" Well, there is no need for King Midas to touch Random Spirit Lover. It is already pure gold.
Sunset Rubdown – The Taming of the Hands That Came Back To Life

[audio:https://obscuresound.com/mp3/sunset-tam.mp3]
Sunset Rubdown – Winged/Wicked Things
[audio:https://obscuresound.com/mp3/sunset-win.mp3]
———————————————————————————————–
05. Frog Eyes – Tears of the Valedictorian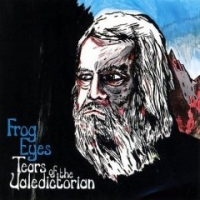 I can honestly say that I have not come across a band similar in approach to Frog Eyes. Leading man Carey Mercer, upon first impression, possesses the vocals of a madman. He whimpers, squeals, and trembles his way through hordes of unconventional instrumentation, somehow regaining enough emotional ardency to carry out a strong melody in the process. I suppose that you could group him in with his aforementioned roommate/collaborator Spencer Krug if you were desperate, but even Krug's unique style seems nearly accessible compared to the sounds Mercer conveys. His lyrics are presented in a hectic daze, an aspect that seems to serve nearly exclusively as a melodic element, simply because the lyrical content is too ambiguous and muttered to even attempt interpretation. Like their previous three albums, Frog Eyes' songs fly at a furious pace in Tears of the Valedictorian. Though their style remains similarly adjusted, the reason why Tears of the Valedictorian is Frog Eyes' best album of their career is a simple one: every song is worthwhile. ""Stockades"" is one of the best songs Mercer has ever written, being a display his ability to craft pop hooks despite arrangements that are chaotic enough to send an early bird into a daze. Led by the ceaseless hammering of keys, Mercer transcends into a series of yelps and sighs; his tonal aggression provides as structural indication for a song that, to many, remains thoroughly unpredictable. In terms of epics, "Bushels" is also one of the most impressive songs Mercer has written. Stretching over 9 minutes, it begins rather barefaced with the strains of a single guitar. As expected though, Frog Eyes seems too impatient to rely on the same tempo and melodic pattern for the entire song. Less than a minute inwards, it explodes into a chorus of epic proportions with pulsating keys and rapid percussion. Mercer's ability to toy around with such intricate songs remains perplexing but also equally impressive. On Tears of the Valedictorian, his impatience is simply a rewarding virtue.
———————————————————————————————–
04. Jens Lekman – Night Falls Over Kortedala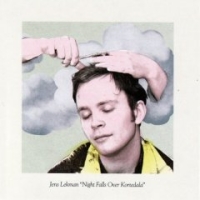 All Jens Lekman fans know that the tragedy of heartbreak is a concurring theme throughout the majority of his songs, whether it be in the twinkling "Rocky Dennis' Farewell Song" or the humorous "Psychogirl". So, when Lekman announced that he was retiring from music last year, fans suddenly became the embodiment of that certain captivating character in his lyrical tales of humor, wit, and anguish. What a pity it would have been if the Swedish native followed through on it too. The so-called "retirement" merely lasted a few months and the outstanding Night Falls Over Kortedala was released in September. What followed was merely validation that Lekman is one of the most talented pop songwriters of the decade. While such a tag may seem initially overwhelming to handle, Lekman's soft-spoken nature leaves him unphased. After obtaining a massive fan base, both in and out of Sweden, through the releases of his debut album, When I Said I Wanted to Be Your Dog, and its proceeding compilation, Oh You're So Silent Jens, the pressure placed on the budding songwriter seems nearly obsolete. Instead, Night Falls Over Kortedala offers the best work of Lekman's career, with jazz-tinged gems like "Friday Night at the Drive-In Bingo" mixing fluidly with string-induced dramatic in the vein of "If I Could Cry (It Would Feel Like This)". But perhaps the album's best moment comes in the exhilarating "Kanske Är Jag Kär I Dig", a humorously metaphorical lyrical tale about a little boy who was forced to have a pig for a pet because "his mom was once attacked by a dog". Backed by a sample that sounds reminiscent of '70s soul and doo-wop, the song's eventual expansion into the chorus led by a brass-led accompaniment of swanky soul is brilliantly executed; it is moments like this throughout the album that truly makes it an outstanding accomplishment. There is little doubt in my mind that Jens Lekman has the potential to become one of the greatest pop songwriters of our generation. With another impeccable album like Night Falls Over Kortedala under his belt, he is certainly on his way.
Jens Lekman – Kanske Är Jag Kär I Dig
[audio:http://mineorecords.com/mp3/b07/lekman-kan.mp3]
Jens Lekman – Friday Night at the Drive-In Bingo
[audio:http://mineorecords.com/mp3/b07/lekman-fri.mp3]
———————————————————————————————–
03. Dr. Dog – We All Belong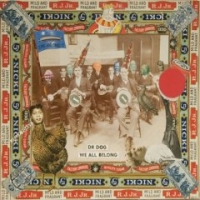 Though a bunch of raving critics would state otherwise, I believe that there is nothing wrong with a band embraing '60s pop music in their sound — as long as they pull it off, of course. The primary reason that Dr. Dog have not found similar success to the other nine artists in the "Top 10" simply derives from their strength (or weakness) to latch onto an influence and generally manipulate it into a contemporary style in prominent embodiment of throwback execution. The thing is, Dr. Dog are far from copycats. They simply are fans of legendary songwriters like Harry Nilsson and John Lennon, in turn using their ability to craft irresistible pop hooks that sound, well, timeless. Take "Ain't it Strange" for example, widely considered a ballad in the world of Dr. Dog. Lead vocalist Scott McMicken relays a reverbed snarl over the pairing of melodic keys, synchronized to perfection. When the heavy twang of a newly added guitar is overlapped with an ardent change in vocal pitch, the hook is simply too powerful to refuse. The same can be said for "Alaska", a swankily enjoyable tune that sounds like some gem taken out of the Harry Nilsson vault. Whether you are a fan of retro revivalism or not, We All Belong is justifiably one of the best pop albums of the year.
———————————————————————————————–
02. Spoon – Ga Ga Ga Ga Ga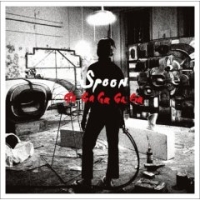 When I saw Spoon perform live at the Roseland Ballroom in NYC a few months ago, there was one thing that initally perplexed me. "This is the biggest event that we've ever headlined for," frontman Britt Daniel quipped to the audience. Looking at Spoon's wildly consistent discography, I suppose it can come as a shocker that the Austin-based four-piece are just beginning to break out in a big way. Sure, while Kill the Moonlight and Gimme Fiction were of fantastic quality, their sixth album, Ga Ga Ga Ga Ga, is their first entry into the upper echelons of the music charts. Whether it can be attributed to the album's immediate level of accessibility or the infectious pop that the four-piece conveys, it can be confidently traced back t0 the veteran musicianship that the band has acquired throughout their past 14 years together. Ga Ga Ga Ga Ga is largely a rhythmically led album, with domineering bass lines steering the rush of guitars and flurries of keys in sensational tracks like "You Got Yr. Cherry Bomb" and "My Little Japanese Cigarette Case". Arguably the most infectious, however, comes in the exceptional "The Underdog". Featuring a plethora of brass and halted acoustical patterns, Daniel's whimsical array of vocal melodies makes the inevitable comparison to Billy Joel come true. Yes, I know you have heard that one before, but it truly fits the glove surprisingly well. Though their past releases are reputable for their scattering of bright spots, Spoon's Ga Ga Ga Ga Ga serves as one singular accomplishment throughout its entire duration.
Spoon – You Got Yr. Cherry Bomb

[audio:http://mineorecords.com/mp3/b07/spoon-you.mp3]
———————————————————————————————–
01. Radiohead – In Rainbows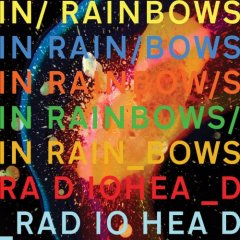 Just over ten days prior to the release of In Rainbows, most fans assumed that Radiohead was still in the midst of writing new material, roughing out the edges for the imminent production of an album that would, in best case scenario, be released by the end of 2008. On the first day of October, when the group left an ambiguous message on their blog stating that In Rainbows would be released a mere 10 days, I did not know what to think. I had a fairly good idea of what my favorite albums of the year were at the time, and I had no intention of reserving a vacant spot on the list for a new Radiohead album. After all, after waiting 4 years for the newly coined "LP7", impatience had literally grown to a state of numbness. I admit that I paid literally nothing for the album's first release (in download form), yet I figured that paying $80 for a box set would somewhat compensate for my general appreciation of the group's efforts. This "pick-your-price" distribution sparked a prominent interest within the music industry. There were thousands of rants regarding how it would effect the music industry, with many considering the "death" of the record label as we know it. For the most part, I considered such assumptions to be narrow-minded. People should realize that Radiohead is only one of the handful of bands in the world who could pull this off and actually make a difference. They have earned it too, with a body of work that has earned them the title of arguably the most accomplished band of the past 20 years.

Apart from all of this industrial mumbo-jumbo that journalists seem to focus on a bit too much, let us turn to the musical side of things: In Rainbows is what I consider to be the best album of the year. I admit that I was initially hesitant, as I considered their previous album, Hail to the Thief, a mixed bag of sorts. It reflected a period of stylistic hesitation and, though I also consider it an accomplished album, there were moments on Hail to the Thief where the album's cohesiveness seemed skeptical at best. Compared to the likes of Kid A or OK Computer, its inconsistency raised slight concern. Still, comparing an album to such giants is never a lawful approach to take. In Rainbows appears to be the group's most stylistically confident album since Kid A, showing a level of maturity that is more than well-deserved at this point in their careers. Apart from the energetic "Bodysnatchers", it serves as some of their most subdued work to date. They appear tired of experimentation in attempts to transcend a singular style, resulting in an album where their genuine intrepidity is parallel to sheer greatness. One of my favorite tracks, "Nude", contains some of the best songwriting I have heard from the group in some time. Initially built on soft percussion and rumbling bass, Yorke's voice appears frail but also on the verge of emotional insatiability. Throughout the track, a swelling of strings build up in contrast to Yorke's quivering tone. When the song takes a slight halt and the strings become reflective of Yorke's soft, heartbreaking hum, it is a spine-chilling induction that serves as one of the finest moments on the album.
Yorke's vocal techniques are as equally impressive on the album's debut single, "Jigsaw Falling into Place". Like several gems in the vein of "Nude", "All I Need", and "Faust Arp", the use of strings is expertly implemented, causing a sound that resonates in a devastatingly tragic manner. "Reckoner" has already become a fan favorite for good season, fusing together various orchestral and pop techniques to create a haunting flow. Though I still am one of the many that prefers the more energized live version of "Videotape", there is little to fault In Rainbows for. Even their decision to change "Arpeggi" from an orchestrally laden ballad into a guitar-based build-up works well in contrast to the rest of the delightfully interwoven In Rainbows. In fact, such blatant stylistic confidence remains the primary reason for it being one of Radiohead's best albums of their career. A landmark achievement in both industrial distribution and musicianship, In Rainbows is the definitive album of 2007.
Radiohead – Jigsaw Falling into Place

[audio:http://mineorecords.com/mp3/b07/rhead-jig.mp3]