Obscure Sound: Best of July 2012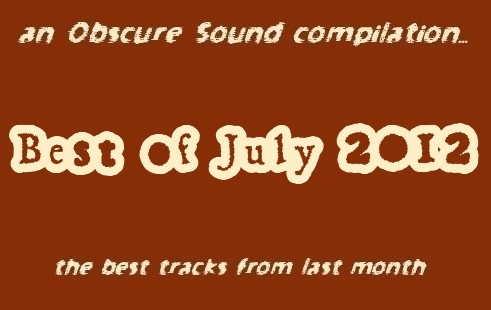 I apologize for being late, again, with this. Look on the bright side: we're only two weeks away from the August compilation. The two combined should feature about 40 bands or so in a span of 15 days. But let's focus on July for now. Three familiar names kick it off, with tracks that show why their aligning full-lengths are some of the year's best. "Only In My Dreams" is one of the tamer tracks on Ariel Pink's Mature Themes, but that doesn't mean it isn't worthwhile. It's a twinkling gem that's one of Ariel's catchiest to date, with a timeless jangle reminiscent of his '60s garage-rock covers. The epic "Apocalypse Dreams" from one of my favorites, Tame Impala, can't be missed either. They sink even deeper into massive psych-rock territory, with the track's dreamy key arpeggios and interweaving vocal melodies serving as a few of many strong points.
The rest of the compilation features mostly the unknown and rising, the new Animal Collective track being the exception. I love the bubbly post-punk bass throughout Brave Mariner's "Trees with Diamond Leaves" and its strong anthemic chorus. Fo0d is another interesting one, a sample-friendly bedroom project out of Japan. It sits somewhere between a club-ready beat and bubblegum-pop. Also worth mentioning is the superb build-up on Ghost Toy Castle's "Bloody Tracks", which would fit nicely on an Elephant 6 mix alongside the Olivia Tremor Control. In a similar DIY bedroom-pop vein, the full album from Old Smile is available and highly recommended, as is his artwork. I won't spoil the entire compilation though. There are some surprises I think you'll like. Enjoy!
01. Tame Impala – "Apocalypse Dreams" (post)
02. Ariel Pink's Haunted Graffiti – "Only In My Dreams" (post)
03. Twin Shadow – When the Movie's Over" (post)
04. Brave Mariner – "Trees with Diamond Leaves" (post)
05. Jessica Hernandez – "Young Dumb & Drunk" (post)
06. Fo0d – "Amusement" (post)
07. Los Encantados – "St Tropez" (post)
08. Animal Collective – "Today's Supernatural" (post)
09. Old Smile – "When This Becomes Yesterday" (post)
10. Tamaryn – "Sandstone" (post)
11. Daphni – "Ye Ye" (post)
12. Tuff Sunshine – "Let 'em In" (post)
13. Boreal Sons – "iii. Stop" (post)
14. Ghost Toy Castle – "Bloody Tracks" (post)
15. Southern Shores – "Malabar" (post)
16. Keith Canisius – Eddy Mercx" (post)
17. The Young Evils – "Darker Blue Bayou" (post)
18. Horrid Red  - "Joy Inside" (post)
DOWNLOAD ENTIRE COMPILATION>>>
 (134 MB, .RAR)
ariel pink mature themes mediafire